Very Cool!
You Can Learn How to
Make and Use Biogas,
Save Money on Fuel, &
Build and Sell Biogas Digesters
Know what you want already? Go right to it:
      Select a Workshop:
Year
Date
Where?
2014
April 26th
USA
New York City (Brooklyn)
Need more info? Keep reading…
What is biogas?
Still a little vague about biogas? Need a bit of background? See "More about biogas", below …
But perhaps the key point is if you want to move toward energy independence, and/or help others make the same journey, biogas ought to be on your list.
By the way, these Beginner's Biogas Workshops might not exist except that Friendly Aquaponics asked David to come and do the first one in Hawaii. (Who could resist that invitation?) If you are interested in great ideas, fresh organic food and backyard fish, or for that matter if you're looking for a great business— a right livelihood by which to earn your daily bread— check them out!
What are these workshops?
Would you like to know how to generate biogas? What produces it and how to use it? How to make really cheap, practical digesters? Attend a workshop!
"I really enjoyed the great seminar you offered to us… [and] the fast-paced, sometimes hilarious and extremely informative & brilliant conversation that you provided in our short time together…"
Our two-day beginner's workshop offers complete information about how to understand, successfully make and properly use biogas (first day), and how to make simple, effective, low–cost digesters (second day: hands-on!). You make it? You take it! Home! And it's not just about small digesters, either: You will also learn a good deal about the tools and techniques required to build fairly large digesters.
Please note that we've learned a lot more since the book was written, so a good bit of the information provided in this workshop is not in The Complete Biogas Handbook. (Yes, yes, agreed: That of course means that it's not complete, but calling it The Nearly Almost Pretty Much Complete Biogas Handbook just didn't seem like such a great idea…)
Everyone who attends this workshop will leave with:
a CD with a heap of wonderful information, including the world»s best free resources for building any of the four most common types of small-scale digesters,
a copy of

The Complete Biogas Handbook

, which offers a much praised view of everything concerning biogas,…
And, depending on the workshop, everyone who attends (or everyone who chooses to purchase one) will leave with
a small (~200 gal, ~0.75 m3) 'core' digester kit.[*]
[*] These digester kits need to be put in a greenhouse or someplace they can be kept warm, and they do not include a gas storage system, a stove or other appliances. That's why we call them 'core digester kits'— because they need additional parts and work to be complete digesters.
And by the way, a 200 gal digester, if kept warm and fed, has the potential to generate all the fuel necessary to cook all the meals for one or two people. If you pay very much for cooking fuel— do you use propane?— then you could begin saving money every month, as soon as your digester is up and bubbling…
"I was amazed at the minimal cost for construc­ting a re­actor/­digestor!… The upbeat nature of the pre­senter, David House, helped to make the exper­ience not only educa­tional, but also enter­taining. It was a plea­sure to attend the biogas workshop!"
Who will be presenting?
David House is the author of The Complete Biogas Handbook, and has lectured and taught a variety of subjects in more than 20 countries. (More information about David found here.)
Your workshop?
Do you want to have a workshop in your area? If you help organize one, you can attend for free, and will get other benefits as well. If you are interested in exploring this opportunity, or if you want to be contacted when new workshops are scheduled— perhaps one that is closer to where you live— please be sure to contact us. We will in touch…
Where? When? How much?
The workshops mentioned below have been organized with the assistance of folks in the states, regions and countries where the workshops will be held:
Workshop

: April 26th – April 27th, 2014
Brooklyn, NY

(East coast USA)

Workshop address:
Organized by:
Holstee
98 4th St #106
Brooklyn, NY 11231

(Store phone, for directions only:
1-917-336-0603 Weekdays 9-5pm;
or visit the store's web site.)

Josh Eichen:
josh.eichen@gmail.com

$
Description
Buy a seat!
$215
This is a two-day workshop. The first day is "All About Biogas…", where you will learn how to make and use biogas, and get clear plans to build any of the four most common small-scale biogas digesters. David will also describe a new design of digester made from plastic, plywood, piping and similar low-cost materials. Everyone who attends the workshop will be given detailed plans for constructing this new digester; a $175 value. Learn about the enormous potential of food waste: David will show you about a small restaurant which throws away about three-quarters of a pick-up load of food every week. That food waste can produce 20,000 cubic feet of biogas a month!

The second day is "Building Biogas Digesters," as described above. Come with questions: We've got answers. (Please purchase your seat by clicking the button to the right.)
$30
You can also purchase a "core" digester kit (see description above). We will be providing and building these kits on the second day of the workshop
A workshop near you?
These workshops are organized by folks like you, near where they live. Would you like to organize a workshop? There are rewards, you can be sure. Contact us!
Workshop

: At an unknown date, but soon…
Near you!
Where you are, anywhere in the world: if you arrange it…
Cost? Negotiable.
(Registration is not yet open for this workshop. But it could be! So contact us!)   (And how cool would it be to have a workshop and build a big digester, eh?)
More about biogas
Biogas is a naturally produced fuel, capable of powering stoves, lights, refrigerators, and anything that natural gas or propane can power. It is a gas composed almost entirely of CO2 (carbon dioxide) and methane (CH4) produced by a composting process, where air is excluded: anaerobic digestion.
"Very interesting and informative. This workshop has opened up many new ideas. A lot of information!"
Almost anything that was once alive can produce biogas, but plants provide a good deal more biogas than manure, pound for pound. (Want to know more? Well buy the book, hey….)
Briefly: Biogas? Well…

It's simple
It can be really inexpensive to build a biogas "digester"
And it offers far more energy per unit land than either ethanol or biodiesel
(Honest! Proof? See the chart and read the links below.)
Composting
process
Outcome
Heat
Methane
Cell
growth
Aerobic


(with O2)

40%
~none
60%
Anaerobic


(no O2)

~none
90%
10%
As you may know, a properly–built ordinary (aerobic) compost pile will get very hot (sometimes as much as 150°F – 70°C). So much kinetic energy (moving; hard to capture and use) is released from the breakdown of compost materials! A lot, yes, but more than twice the amount of energy in that kinetic heat is released as potential energy (stored; easy to capture and use) in the bonds of the methane molecule in biogas.
(Look at the chart at the right. You can see that 90% is more than twice as much as 40%.)


How much energy? Well, many studies show that when converting plant matter from a given unit of land into biogas vs. ethanol or biodiesel, biogas wins the contest big time, offering (for example) eight times the net energy of ethanol. (It offers lower greenhouse gas emissions than either ethanol or biodiesel as well.) For example: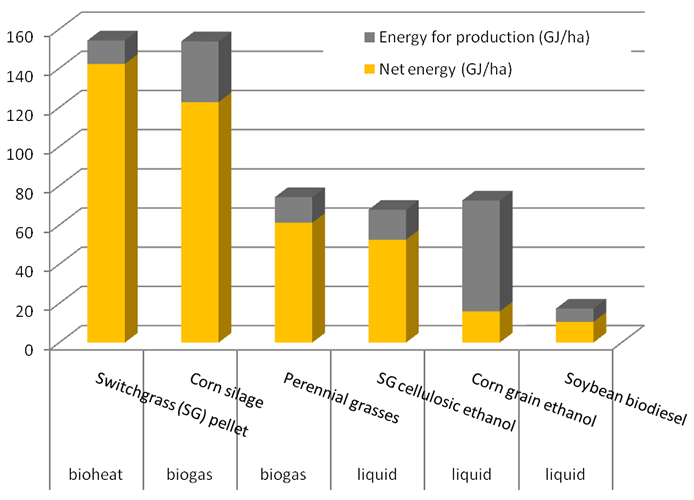 (The above shows data from a 2009 study by Roger Samson and his colleagues.)